Hover over images to see captions
It flows from Tibet
Confluence of the Indus and the Zanskar rivers. The Indus, one of Asia's great rivers, originates in the Changtang cold desert in the high altitude Tibetan Plateau crossing the border into India. It meets the Zanskar River in Nimmu Valley, Ladakh in the lap of the Himalayas where one can stand and look towards Tibet.
Long gaze to Tibet

From Ladakh
Tibet is just a gaze away.
They said:
from that black knoll
at Dumtse it's Tibet.
For the first time, I saw
my country Tibet.'
Excerpt from:

Personal reconnaissance by Tenzin Tsundue.
Young monks from Yuru gompa, Lamayuru, Ladakh
After the majority of Gompas (monasteries) in Tibet were destroyed by the Chinese during the 'cultural revolution' Ladakh is home to the most preserved examples of Tibetan tantric buddhism. Today many young tibetans are raised in monastic communities in India where they learn the Tibetan language and a pure form of Tibetan tantric buddhist philosophy
After fleeing their home county and settling in India and Nepal, many Tibetans became labourers and road workers. This continued with some second generation TRIE however with increased access to education the cycle is breaking for 3rd generation TRIE.
Nawang
Nawang escaped Tibet over a decade ago. Alogside his monastic studies and duties he teaches at the Tibetan School in Dharamshala, India. There, students learn the Tibetan language, traditional culture and Buddhist philosophy.
Forbidden face
The Chinese government have deemed it illegal to display images of the Dalai Lama, whom it accuses of inciting resistance to and plots against China, anywhere in Tibet. Those who flout this law are arrested, jailed or disappeared.
Lo Sang, a Tibetan monk and refugee in exile.
Lo Sang escaped Tibet just over a decade ago. He had to grow is hair long, take off his monastic robes and travel only during the cover of darkness with the help of a Nepali fixer through the Himalayas from Tibet to Nepal. His final destination being Dharamshala in India, home to the Dalai Lama. He came very close to capture and even death along the way, having to be hidden by sympathetic locals and climbing beneath the offices of Chinese police officials, nearly slipping into an adjacent gorge as he did so. Capture would have meant certain arrest, jail and most likely abuse and torture.
Mesib Norbu, former monk, writer and part of Free Tibet movement outside the poetry tea shop he runs in Mcleod Ganj, Himachal Pradesh, India.
Norbu was born in Tibet in 1973. He spoke of being a child in Tibet under the rule of Chinese. He was prevented from studying the Tibetan language and buddhist philosophy and forced to learn Chinese as part of their cultural assimilation policies. He finally fled Tibet through the Himalayas on foot for exile in India in 1992. The journey took 4 weeks and had severe repercussions on his health. In India he continued his monastic studies at Kirti Monastery. After repeated bouts of serious illness which affected his monastic duties he disrobed and now writes about his motherland, cultural identity and the Tibetan struggle.
Exile House
The room of Tenzin Tsundue; prominent Tibetan independence activist, poet and writer in Dharamshala, Himachal Pradesh, India.
Over the years it has been a hub for Tibetan activists and artists.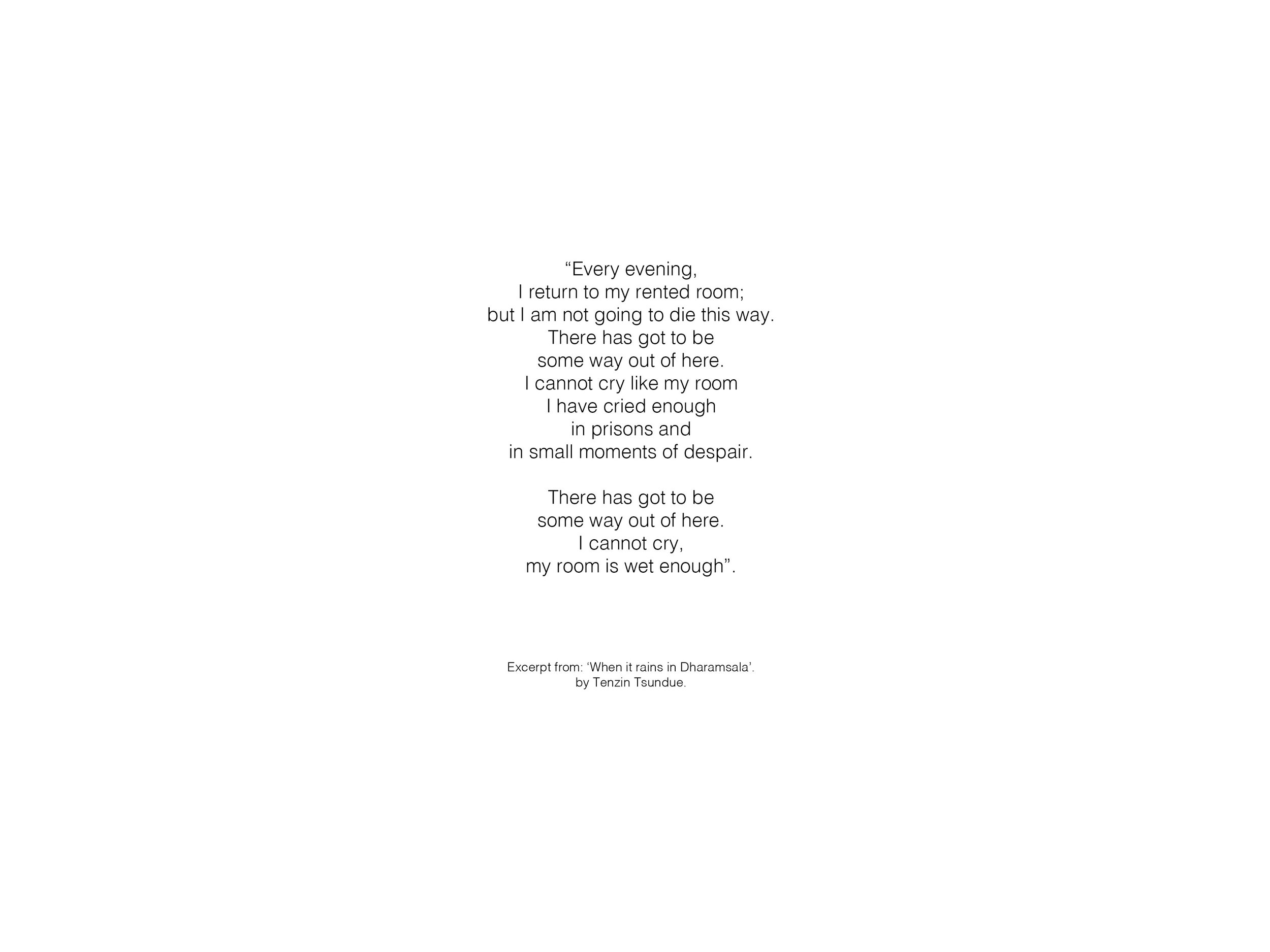 Tenzin Tsundue, prominent Tibet independence movement activist, poet and writer
'When I was 22, I went to Tibet. The idea was to go there, fight for freedom, and perhaps die. But I got arrested. I was blindfolded, beaten and interrogated in jail for three months before being thrown out of Tibet. That was a kind of rebirth for me'. -
Tsundue was jailed with 'prisoners of conscience'; people who are jailed for their opinions, not for crimes.
Dolma Yangchen, president of the Tibetan Women's Association
Fighting for the rights of women inside Tibet and also in exile. The organisation supports the preservation traditional culture and language and advocacy for women in exile. 'The most pressing issue facing us as Tibetans now is our dwindling population. We are already a minority in our homeland of Tibet because of Chinese brutality and re-population policies but now also the exile population is floundering so our focus as an organisation is encouraging young Tibetans to procreate.
Namgyal Monastery, home of the exiled 14th Dalai Lama.

Inside Namgyal Monastery in McLeod Ganji, home of the exiled 14th Dalai Lama.
Tibetan nuns receive their passes to a public teaching at the Dalai Lama Temple complex in Dharamshala which will be attended by 5000 people.
Tibetan settlement, Namrung in Nupri valley Nepal.
Nupri valley is home to a tibetan population who speak exclusively tibetan dialect wear traditional tibetan dress (chubas) and live a very preserved example of traditional tibetan life (grazing yak etc) - more so than is now evident in Tibet itself.
Sacred Yak
Yak are sacred to Tibetans. Everything they produce is traded or used to sustain their way of life. Milk, also used to make yak butter used their staple Yak butter tea and porridge. Wool for clothing and their manure is burned as fuel and used as insulation.
A traditional life
Tibetan women in traditional dress (chupas) near high altitude settlement of Sama Goan, Nepal.
Facing Rui La
The view from the high altitude Tibetan settlement of Samdo in Nepal looking out towards Rui La and the Tibet border. Many Tibetans fled Tibet through here over the years but it is now a tightly controlled crossing run by the Chinese. It is open 15 days a year to natives of the Nupri valley area only.